Chicken Pasta Primavera for Weekdays
KateL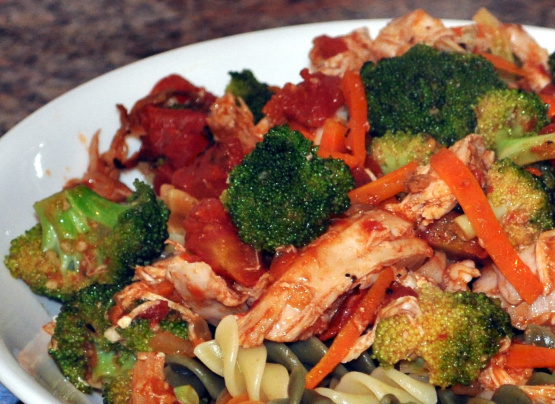 A quick non-creamy weeknight primavera using cooked chicken. Found in California Sizzles. Notes: A 14.5 ounce can of peeled Roma tomatoes equals 4-5 fresh tomatoes; drain before adding. The whole canned tomatoes tend to be higher quality than those used for cut up varieties, but Progresso, Muir Glen, and Contadina are highly rated brands. If using frozen broccoli (if you don't live in California!), please thaw prior to adding. A one-pound bunch of fresh broccoli will yield 4 cups of florets. Made 6/16/12: used florets from 1 crown of broccoli, Fire-roasted tomatoes (drained), pulled meat from 1/2 rotisserie chicken. This was mild - family friendly. We will make again using Rotel, or serve with red pepper flakes or Mrs. Dash Fiesta Lime seasoning. Used tri-colored garden rotini, but would look better on angel hair. My fresh broccoli only needed 7 minutes before adding chicken. Because I used rotisserie chicken and canned tomatoes, I did not add additional salt.

It's amazing how good and healthy homemade fast food can be. I made this tonight and it was marvelous. Used a skinless, boneless, chicken breast cut into bite sized pieces and the dish came together quickly. Would certainly make this again with a smile.
Prepare pasta according to package directions.
Heat oil in a 10-inch skillet over medium heat. Add broccoli, onion, garlic and carrot. Stir frequently, until broccoli is crisp, yet tender, about 10 minutes.
Stir in chicken, salt and tomatoes. Heat for 3 minutes or until chicken is hot.
Spoon chicken mixture over drained pasta. Sprinkle with Parmesan cheese and parsley.