Boomette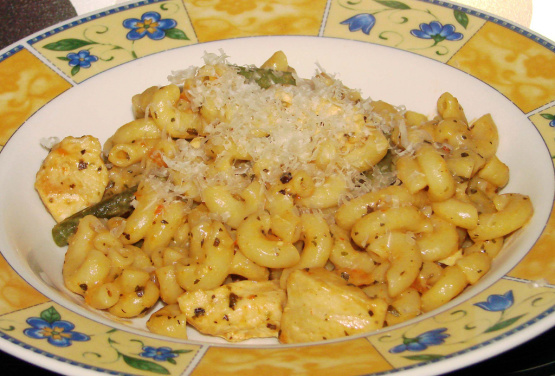 A recipe from The Comfort Food Diet cookbook of Taste of Home. This is so yummy. Maybe another time I'll use less pasta. I used dried basil but it would be great with fresh basil. I roasted a red bell pepper and used it in this recipe.

I was expecting this to be tasty but it was even more yummy that I had thought. I didn't use the red pepper as I found it past the point of appealing and continued without it. I did cut the beans as ask but the chicken was in larger pieces. The sauce, though simple, was delicious and this doesn't take all day to make. I will most certainly make this again.
Cook pasta according to package directions, adding green beans during the last 2 minutes (I steamed them cause I didn't want them crispy). Meanwhile, in a large nonstick skillet, saute chicken in 2 tsp oil until no longer pink. Remove and keep warm. In the same pan, saute red peppers and garlic in remaining oil for 1 minute.
Stir in the chicken broth, 1/2 cup milk, basil, salt and pepper. Bring to a boil. Reduce heat; simmer, uncovered, for 3 minutes or until slightly thickened. Remove from the heat; cool slightly. Transfer to a blender; cover and process until smooth. Return to the pan.
Add chicken to the pepper mixture. Combine cornstarch and remaining milk until smooth; gradually stir into the chicken mixture. Bring to a boil; cook and stir for 2 minutes or until thickened.
Drain pasta mixture; toss with the sauce. Srinkle each serving with 1 tbs cheese.