loof751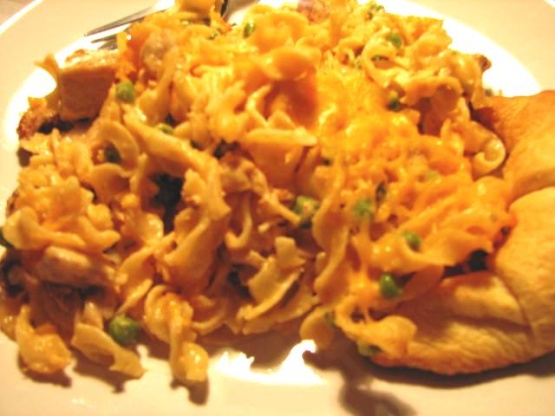 A delicious recipe that puts your imagination to work and also allows for everything from every food group to go in.
Cook chicken breasts in a pot, boiling each piece. Salt and pepper or otherwise season as you please.
While Chicken is cooking, start on the sauce. Start with the packet of cheese sauce powder from the mac-n-cheese with the milk and margarine.
Add the cream cheese to the mix, allowing that and the margarine to soften and melt at the same time.
While the cream cheese is melting, and blending, take the chicken from the pot and add the pasta. If vegetables are frozen, add them as well.
Once chicken has cooled, cut it into one inch cubed pieces. Then re-add the chicken to the pasta and vegetables.
Then go back to the sauce. Add the shredded cheese to the sauce, keep a good watch on it, so it doesn't scorch to the bottom of the pan.
Once everything is all cooked up, pour both the chicken and pasta mixture into a 9" X 13" casserole pan and the cheese sauce. Using a rubber spatula or wooden spoon to mix the ingredients together.
Then added the 1/4 cup of cheese and breadcrumbs or crackers to the top and bake in the oven for fifteen minutes, or till cheese is melted.