lether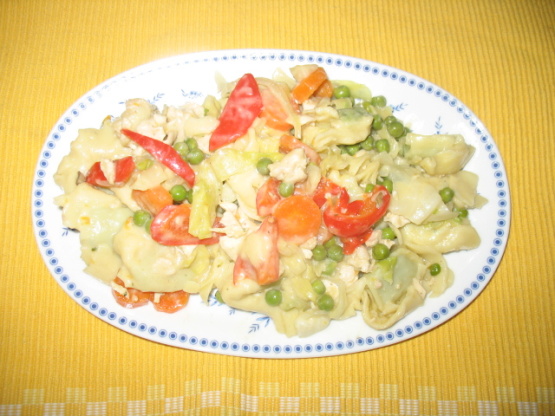 Another version of a chicken lo mein-type dish, but with lots more veggies! The sauce is very tasty, and this dish is great eaten hot or cold. I love to take the leftovers to work with me for a healthy, filling lunch. Add any of your favorite veggies; I just listed some of the ones that I used

I really liked this, as did the rest of my "family unit", but I was really winging it,all the way along.The instructions were kind of vague,so I prepared it to my tastes.I bought fresh angel hair pasta, reduced the garlic to 2 cloves, and, instead of par-boiling the vegetables I chose-(onion,green pepper,celery,baby corn,(frozen)cabbage,bamboo shoots,frozen pea pods, and some shitake mushrooms)I cooked it in some of the peanut oil,for a couple minutes. The sauce seemed too vineger-ish, so I added more sesame oil...it was wonderful! Even my daughter, known as "The-Girl-Who-Hates-Vegetables, said how tasty it was and it had a roasted flavor. Hubby liked it, too. He LOVES sesame seeds on anything. Rhanks, I came across this by accident, and I'm sure glad I did!And I'm sure I'll make it again sometime in 2003. Happy Holidays!
8

ounces angel hair pasta
1 1⁄2 tablespoons soy sauce

1

tablespoon vinegar, preferably rice wine

2

teaspoons sesame oil

3

cloves garlic, minced

1

lb boneless chicken breast, cut in strips
1⁄4 teaspoon salt
1⁄4 teaspoon black pepper

1

tablespoon sesame seeds

1

tablespoon oil, preferably peanut

1

(15 ounce) can baby corn, drained and cut into bite-size pieces

4

cups mixed vegetables, parboiled (broccoli, cauliflower, carrot, celery, onion, mushrooms, water chestnuts, etc.)
soy sauce, for serving (optional)
Cook and drain pasta according to package and set aside.
Combine soy sauce, vinegar, sesame oil, and 1 clove minced garlic.
Sprinkle both sides of chicken with salt and pepper.
In dry skillet, over medium heat, cook sesame seeds until golden, about 2 minutes.
Remove from heat and set aside.
In same skillet, heat peanut oil over medium heat.
Add remaining garlic, cook, stirring, until golden, about 1 minutes (May have to add a bit of water to prevent burning).
Add chicken, cook, stirring, until no longer pink, about 6 minutes.
In large bowl, combine corn, veggies, and pasta with chicken and soy mixture.
Toss well.
Sprinkle with reserved sesame seeds.