lazyme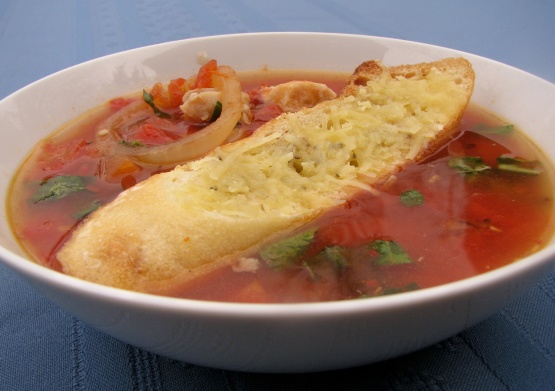 Rachael Ray made this on her show recently and I can't wait to try it. It sure looks good and healthy. She promoted this as a 15-minute soup.

Preheat oven to 350 degrees.
Heat a large pot over medium-high heat with 2 T of extra-virgin olive oil. Season the chicken with salt and pepper and add to pot.
Cook for about 3-4 minutes, or until just cooked through. Remove from the pot and set aside.
Add the other 2 T of extra virgin olive oil along with the chopped garlic, onions and red pepper flakes.
Cook for about 3-4 minutes. Add tomatoes and the stock, bring to a simmer and cook for about 3-4 minutes.
Add chicken back to the pot and cook for 2-3 minutes.
Add the chopped basil and stir to combine.
While the soup is cooking, drizzle the sliced bread with some extra-virgin olive oil and season with salt and pepper.
Place on a baking sheet and toast until lightly golden, about 3-4 minutes.
Remove from the oven. Rub each piece with the garlic clove and top with parmesan cheese.
Place back in oven for 1-2 minutes.
Serve soup topped with 2 pieces of parmesan toast or, if you prefer, put the bread on the bottom and the soup on top.