Kathy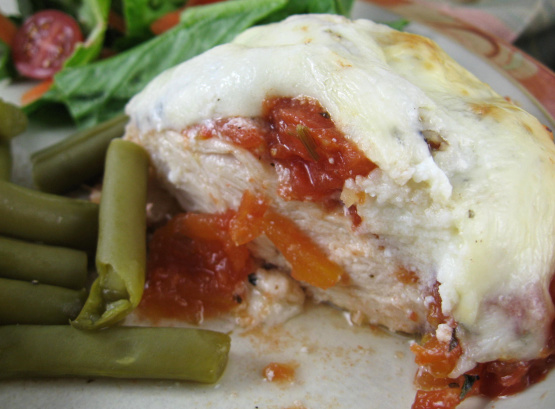 Got this recipe out of a magazine my mother-in-law had. It's very good, and I really like that it serves 2. Some nights you just need a "one shot" meal without leftovers, and this is a tasty change.

Top Review by Kathy
I would rate this 3 1/2 or 4 stars, but I made some changes that I think detracted from the outcome, so I'm not rating the recipe now, just commenting. I used canned italien stewed tomatoes that I chopped in the food processor -- not quite as thick as crushed tomatoes and I wasn't happy with the result (but that's all I had on hand). I also used sliced mozzarella rather than shredded and dried basil -- which I think was a mistake. Fresh basil would have been much more flavorful, and I think it's a must for this recipe. I also would have pounded the chicken breasts there is more surface area for the topping. All in all, the method is good and I think this will be a 5-star recipe when I make it again.
Preheat oven to 375.
Rinse chicken with cold water and pat dry.
Spray a non-stick baking pan with olive oil Arrange breasts on the pan, then cover with the tomatoes and ricotta.
Season with salt and pepper and sprinkle with the garlic, mozzarella, and basil.
Bake for 35 minutes or until the chicken is cooked through, the ricotta is bubbling hot, and the mozzarella turns golden brown.