Nasseh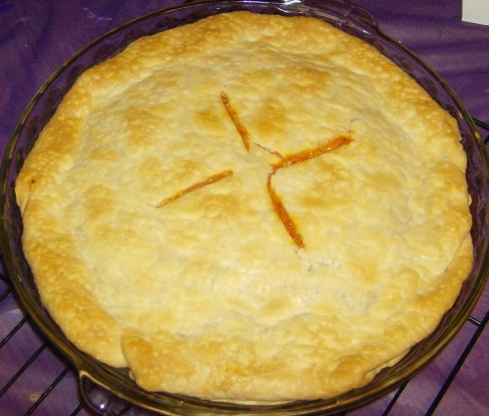 I wanted a parma pie without using bisquick (we don't have it here in Oz)so went searching, I found this on a low-carb web site. I'm posting the recipe as written but I simply combined all the ingredients together,(except water)spooned into pastry, wacked them in the pie maker & voila, chicken parma pies!

Top Review by bug lt
We really liked this (especially my 1 year old). I didn't think it would fill a whole pie pan so I lined a small oblong dish with a pre-made crust, mixed all other ingredients in a bowl (with just a little water) and spooned into the crust. Then I topped with a bit of the mozzarella and folded the crust over the top. Took the whole 30 minutes to brown the crust at 400 F, and the cheese that was showing was beautifully browned. I used some leftover chopped chicken, and replaced the egg with an "egg-replacer" (NOT an egg substitute like "egg-beaters") as my DD is allergic to them, and it worked just fine. Thanks for this different and yummy new dish!
Heat oven to 200.C.
Spread cottage cheese on the bottom of a glass pie plate and then sprinkle with parmesan cheese.
Mix chicken & 3/4 cup mozzarella cheese with the herbs & tomato paste and then add eggs.
Mix cream with water and add to the chicken mixture.
Pour into pie plate and bake for 25-30 mins (some cream will rise to the top).
Top with remaining mozzarella and bake for 5 mins more.