gailanng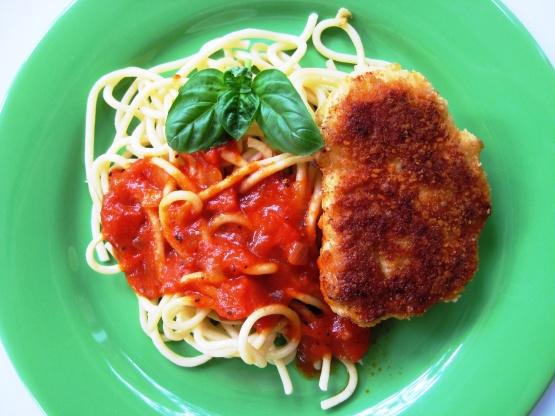 This is slightly different than other chicken parmigiana recipes--the chicken is first ground up and the parmesan cheese is added directly into the chicken patty. An easy dish to make ahead; then later simply top with sauce/cheese and bake. Chopped onion can also be added to the patty.

My husband and I both thought this was good. He said the texture reminded him of salisbury steak. It was very tender. Only one of my sons ate it really well, though. My oldest said he likes the "other kind" of chicken parmesan I make, which is made with a thin chicken breast. I'm still really glad I gave this recipe a try. Made for Pick A Chef, Spring 2010.
Grind up chicken in a food processor.
Combine beaten eggs, parmesan cheese, and bread crumbs with the chicken.
Mix well and form into patties.
Brown patties on both sides with butter.
Put patties into a baking dish.
Top each patty with a spoonful of spaghetti sauce; sprinkle mozzarella cheese over the sauce.
Bake at 350 degrees for 20-30 minutes, or until cheese is golden brown.