gailanng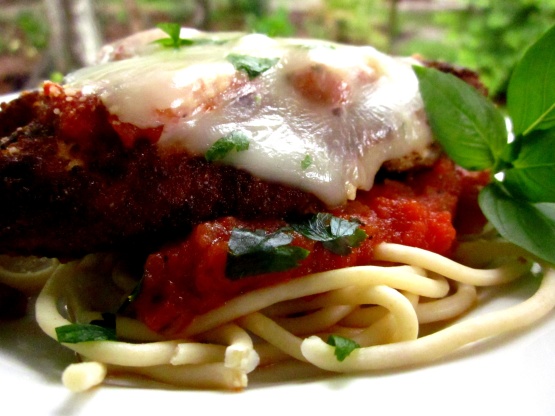 I like to serve this when I have company. It is always a big hit. My family thinks this is better than any they get at the local Italian restaurants. Note: cooking time does not include the time it takes to cook the pasta.

Absolutely love the easy to make marinara sauce! I used tomato puree because right now I have a picky eater that will not eat tomato "chunks" in his sauce. LOL. It was perfect. I'll use this often. I hate to admit it, but when I grabbed my chicken out of the freezer to thaw, I mistakenly grabbed boneless thighs instead of breasts....made the recipe anyway and although it wasn't as pretty as it would have been, I do believe it was just as delicious. Thanks for sharing! Made for your win in Football Tag 2014!
SAUCE

1

onion, chopped

5

garlic cloves, minced

1

bunch parsley, finely chopped
1⁄4 cup vegetable oil

2

(14 1/2 ounce) cans Italian-style stewed tomatoes, undrained

1

(15 ounce) can Italian-style tomato sauce

1

(6 ounce) can tomato paste
1⁄4 teaspoon dried oregano, heaping
1⁄2 teaspoon dried sweet basil leaves, heaping
1⁄8 teaspoon salt
1⁄8 teaspoon black pepper

2

teaspoons granulated sugar

CHICKEN

1

egg
1⁄4 cup milk

1

dash salt

1

dash black pepper

1

cup Italian seasoned breadcrumbs

1

tablespoon fresh parmesan cheese, grated

1

dash salt

1

dash black pepper
1⁄4 cup vegetable oil
1⁄4 cup fresh parmesan cheese, grated

1

cup mozzarella cheese, grated

12

ounces pasta, cooked al dente
SAUCE:.
In a medium saucepan, cook the onion, garlic, and parsley in the oil for approximately 15 minutes. Add stewed tomatoes, tomato sauce, tomato paste, oregano, basil, salt, pepper, and sugar. Cover and simmer for 30 minutes, stirring occasionally. Taste for flavor and add more sugar if sauce is too tart.
In a shallow bowl or pie plate, stir together the egg, milk, and dash of salt and pepper; set aside. In another shallow bowl or pie plate, combine the bread crumbs, 1 Tablespoon Parmesan cheese, and dash of salt and pepper; set aside.
Preheat oven to 350 degrees. Lightly pound chicken breasts, between 2 sheets of plastic wrap, with a mallet. Heat the oil in a large frying pan. Dip each breast in the egg mixture and then the bread crumbs, coating well with crumbs. Cook the breasts in the hot oil until golden brown, about 3 minutes on each side.
Spread 1 cup of the sauce on the bottom of a 9"x13" baking dish. Place the breasts over the sauce. Spread 1-1/2 cups of sauce over the breasts, then sprinkle with 1/4 cup Parmesan cheese.
Cover with foil and bake in preheated oven for 25 minutes. Remove foil and sprinkle with mozzarella cheese. Bake until cheese melts.
Toss cooked pasta with remaining sauce. Serve pasta on the side.