Peter J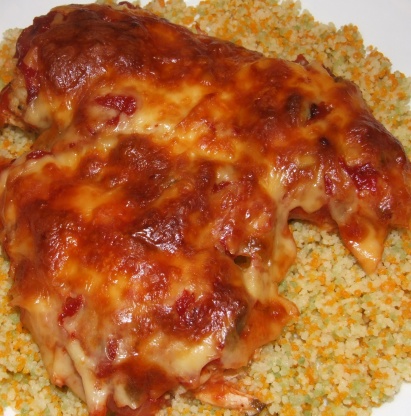 Chicken breasts. 6 points

Such great flavor and presentation, and easy too! We loved this. I used Classico's fire roasted tomato & garlic sauce, and instead of the Italian seasoning used 1 teaspoon each of dried basil, oregano and thyme.. a perfect combo. Served with whole wheat spaghetti; I added some semi-frozen broccoli florets to the boiling water about two minutes before the pasta was done, let the noodles and broccoli cook together, then drained and tossed it all with some garlic-infused olive oil and minced garlic. We have no leftovers! Thanks for sharing this heavenly dish, Amber!
Preheat oven to 350°F.
Coat an 8-inch square pan with cooking spray.
Dip chicken in egg whites and turn to coat. Then mix breadcrumbs with Italian seasoning and dip chicken in breadcrumb mixture, turn to coat thoroughly.
Heat oil in a large skillet; add chicken. Cook until lightly browned and no longer pink in the center, about 4 minutes per side.
Pour ½ cup sauce into prepared baking dish. Place chicken in dish and pour remaining sauce over chicken. Sprinkle with cheese and bake until bubbly, about 25 minutes.