Chicken Parmesan Meatballs
Prep 10 mins
Cook 30 mins

My husband got this recipe from a co-worker who raved about how good it was. We made it with a pound of ground turkey and 2 chicken breasts ground in the food processor. We loved it. A raw Tuscan kale salad that has been shredded and tossed with shallots, Pecornio, olive oil, tsp of lemon juice, salt, and pepper goes great with this dish.
Directions
Preheat oven to 400°F, setting rack to upper third part of oven.
In a large bowl, using your hands, gently mix together first 11 ingredients.
Shape into lacrosse-ball size balls (that would be somewhere between golf and tennis) and place a few inches from each other on a foil-lined baking sheet.
In a small bowl, mix one spoonful of your pizza sauce with olive oil. Brush this mixture on top of each meatball. Bake for 20 - 25 minutes.
Remove meatballs from oven, spoon some sauce on top of each meatball, and cover each with a slice of cheese.
Broil another 3 to 5 minutes until cheese is bubbly and golden.
Heat remaining sauce in a small saucepan.
Serve meatballs with a dollop of sauce.
Reviews
Most Helpful
Followed the recipe exactly. Flavorful and a big hit with the family. I keep this in my store of recipes to use with our leftover sauce.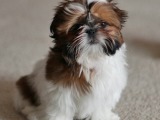 One star because canned pizza sauce? Really?
This was good, but was, with some personal inventions, made amazing. My wife & I omitted the cheese, and served these with some delicious Orange Sauce on top of brown rice with broccoli as a side for an incredible & easy to prepare dinner. It was much better than the original recipe with Parmesan & Fennel (yuck!) - we tried that once, gross. Red sauce does NOT go with lemon zest to our palate. Lemon zest mixes so much BETTER with Asian flavors. As does this recipe, when you omit the cheese.