Chicken Parmesan Alla Chippie
Chippie1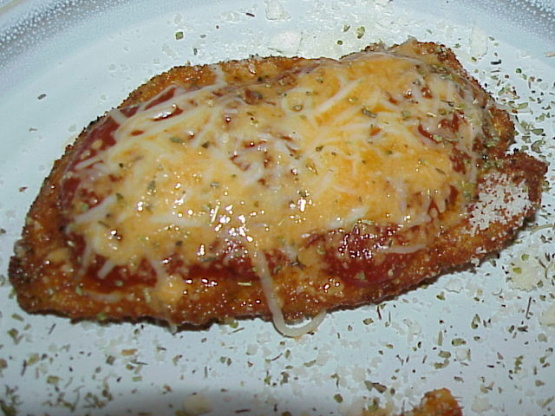 This is a deep fry method for preparing Chicken Parmesan. I know there are quite a few of chicken parm recipes on zaar, but I wanted to share mine. Just remember to pat the chicken with some paper towel after cooking in the deep fryer. This saves on some calories & fat. :)

I just made this for dinner tonite and it was fantastic! I stayed pretty true to the recipe with some exceptions. Instead of the onion and garlic powder I sauteed fresh garlic and onion in some olive oil then added the tomato sauce. I simmered the sauce for about 2 hours. It turned out wonderful and nice and thick. I didn't deep fry (just because it is packed away, as we are remodeling), but used a deep skillet to fry. It came out with a wonderful crust. I love adding the fresh parmesan to the bread crumbs. I also like the fact that the sauce makes a perfect amount for the chicken without a ton left over. Husband said this is one to definitely make again!
Slice chicken breasts 1/4" thick.
(Best if breasts are slightly frozen.).
Combine bread crumbs& parmesan cheese.
Beat eggs.
Place crumb mix& eggs on separate dishes for easy dipping.
Coat breasts in egg then bread crumbs.
For the sauce: combine all ingredients in saucepan and cook low on stovetop for approximately 20 minutes.
Heat Olive Oil in deep fryer to 350 degrees.
(don't let it burn or it will smell nasty in your kitchen).
Deep fry chicken in single layers for 2-3 minutes and place in paper towel lined dish.
(keep warm while frying remaining chicken).
To serve: place chicken breasts on plate& place some sauce on top.
Sprinkle with extra parmesan cheese, if desired.
If serving with pasta, mix a little sauce with the cooked pasta, place on dish, top with some more sauce and sprinkle with parmesan, if desired.
Enjoy!