MsSally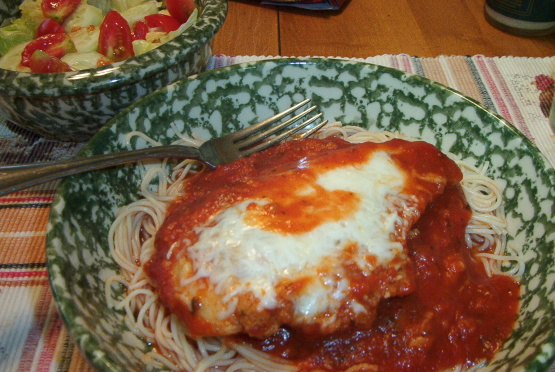 This classic Italian dish starts out with two breast halves split in half -four pieces. Once flattened, they easily make four servings. From Cuisine.

This was so good! We loved this recipe. It was so nice and cheesy that we also served it right out of the pan. I didn't want to mess up the looks of it :)I will definitely be making this again. Thank you for the recipe. A definite keeper.
Flatten chicken breasts with a mallet to 1/4" thick.
Season with salt and black pepper.
Dip into eggs.
Dredge chicken in bread crumbs.
Saute chicken in olive oil in a large skillet coated with a non-stick cooking spray.
Cook over medium-high heat until lighly browned, about 3-5 minutes per side.
Combine the marinara and broth then pour over chicken.
Bring to a boil, cover and reduce heat to low.
Simmer 5 minutes; turn chicken.
Sprinkle chicken with both cheeses.
Cover and simmer 5 minutes, or until cheese is melted.
Serve with cooked angel hair.