Annacia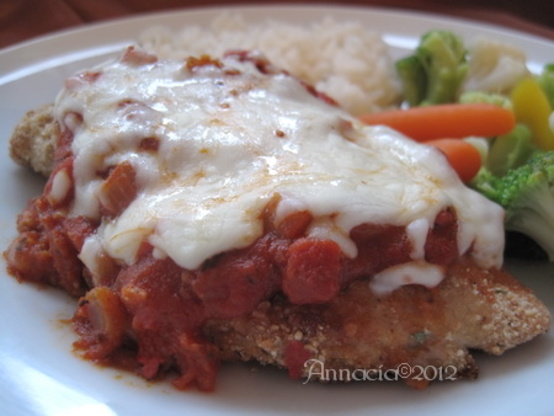 Easy-Do Ahead - Freeze From "Fat Free Living Super Cookbook" by Jyl Steinback, pub. 1997.

This was very tasty and no hardship to make. I found that the real flavor came from the sauce more than the chicken even though it had the lovely coating. I used a homemade vegetarian pasta sauce ans topped it with shredded Mozza. I sure do like the health factor! :D Made for PAC, Sprinf 2012
Preheat oven to 425 degrees.
Lightly spray 9x13 baking dish with nonfat cooking spray.
Pour egg substitute into small bowl.
In a separate bowl, combine bread crumbs, 2 Tablespoons Parmesan cheese, onion powder, garlic powder, and oregano and mix well.
Dip each chicken breast into egg substitute; roll in bread crumbs to coat on all sides.
Place chicken breasts in baking dish and bake 30 to 35 minutes, until golden brown and cooked through.
Pour pasta sauce over chicken and top with cheese slices.
Reduce oven temperature to 375 degrees and cook until sauce is hot and cheese is melted, about 5 to 10 minutes.
Great with pasta, garlic bread, and salad!