Rita1652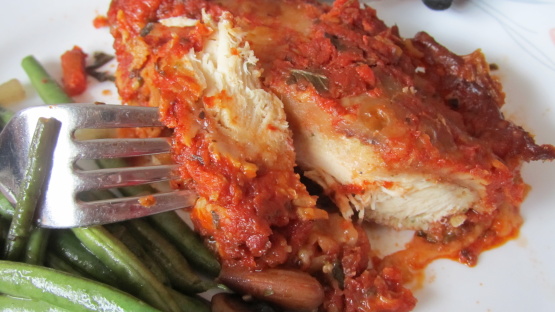 I take 3 pounds of chicken breast and slice into strips to make this version go father. Using more crumbs to coat stretching the meal to serve a touch more. Instead of 5 breasts I have 30-35 strips. Serve on crispy Italian roll or over pasta. Freezes well.
Very easy to make, this delicious Chicken Parmesan is a keeper for our family. I used cornflake crumbs instead as that's what I had on hand, my 10 year old wasn't crazy about the coating but loved the rest so I may just try it without next time or at least not on his chicken as the 8 year old and I both loved it as written. Thanks Rita for another lovely recipe! Made and enjoyed for team Mischief Makers - ZWT #7 :D
Washed and towel dried breast; slice into 5-6 strips.
Mix flour and salt together in a bowl.
Mix egg and the milk together in a bowl.
Place seasoned crumbs in a 3rd bowl.
Lightly pound to tenderize.
Coat strips with flour, dip into egg and then coat with crumbs.
Meanwhile preheat a large fry pan, lightly coat bottom with vegetable oil and brown chicken strips in hot oil to golden brown. Will be done in 3 batches using additional oil as needed. Drain on paper towels.
Coat bottom of a casserole pan with sauce.
Place browned strips over sauce.
Top strips with cheese then pour sauce over the cheese.
Dust top with grated parmigiano reggiano cheese.
Bake in a preheated 350 degree oven for 30 minutes.
Enjoy!