Prep 20 mins
Cook 10 mins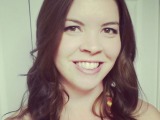 I got this recipe from America's Test Kitchen/Cooks Illustrated: "Our streamlined recipe lets you put this classic dish on the table in 30 minutes or less." *I used the sauce from Jo Mama's World Famous Spaghetti instead of the sauce recipe shown because I already had some on hand.
Directions
For Sauce:.
In a large saucepan or Dutch oven, heat garlic and oil together over medium-high heat until garlic starts to sizzle.
Stir in tomatoes, basil, oregano, sugar, a pinch of salt, and a couple of grinds of pepper; bring to a simmer.
Continue to simmer until sauce thickens a bit and flavors meld, 10 to 12 minutes.
Taste sauce, adjusting salt if necessary; Cover and keep warm.
Chicken Parmesan:.
Bring 2 to 3 quarts of water to boil in a large soup kettle.
Beat egg and a heaping 1/4 teaspoon salt in a small pie plate or other shallow dish until completely broken up.
Mix bread crumbs, a heaping 1/4 teaspoon salt, and a grind or two of pepper in another small pie plate or shallow baking dish.
Preheat broiler.
To Prepare Chicken Breasts:.
Halve breasts horizontally to form two cutlets. (Cut this way, they need little or no pounding).
*If pounding or using small breasts:
Pour 1/2 teaspoon vegetable oil in the center of a sheet of plastic wrap; Turn one cutlet in the oil to coat; top with a second sheet of plastic wrap and pound gently to an even 1/4-inch thickness; Repeat with remaining cutlets, adding additional oil as needed.*.
Working with one at a time, dip both sides of each cutlet in the beaten egg, then in the bread crumb mixture.
Set cutlets on large wire rack set over a jelly roll pan.
Add 2 teaspoons salt and the spaghetti to the boiling water. Boil while cutlets sauté (next step).
Heat oil over medium-high heat in a 12-inch skillet.
When oil starts to shimmer, add cutlets and sauté until golden brown on each side, about 5 to 6 minutes total.
Wash and dry wire rack and return to jelly roll pan.
Transfer cutlets to wire rack and top each with equal portions of mozzarella and Parmesan cheeses.
Place pan of cutlets 4 to 5 inches from heat source and broil until cheese melts and is spotty brown, about 3 minutes.
Drain spaghetti.
Transfer a chicken cutlet and a portion of spaghetti to each of 4 plates. Spoon two or three tablespoons of sauce over part of each cutlet, then sauce the spaghetti as desired.
Serve immediately with extra Parmesan passed separately.
Reviews
Most Helpful
This was very good and the chicken was moist and tender. I like the idea of adding Panko to the breadcrumb mixture to give it a little more crunch on the outside. Also, next time I may cook the sauce down a bit more to make it thicker.
A very delicous texture to the chicken. I think that next time I will try adding a little bit of Panko the the breadcrumb mixture. Thanks!

This recipe is simply delicious! Tastes like restaurant quality, but easy to make! The whole family ate 2nds and 3rds of this one. Excellent!! Thanks for sharing!