Chicken Paprikash With Spaetzle
Nimz1466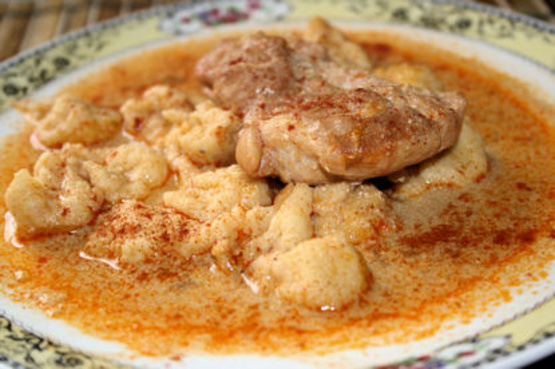 A famous Hungarian dish with the trimmings (dumplings!).

I've traveled to Hungary and many other areas of Western Europe and Spaetzle dumplings were my favorite thing ever! My grandmother also made Paprikash quite often, but usually simply used egg noodles. Putting the two together was lovely for me!
I, too, added chicken broth to give it a heartier taste, and also tweaked the recipe by adding more onion and some garlic powder, as I felt it gave it a bit of a hearty boost. Other than that, the recipe was very on point, and it brought me back to those wonderful times exploring Europe and eating the wonderful food. I did the 6 eggs in the Spaetzle, but found it a little thick still, so I added about 4 tbsp of chicken broth and it made for a batter that was just right in my book. I love recipes like this that you can customize, and make it perfect for any tastebuds! I also want to thank you for a recipe that wasn't too difficult or way too time consuming either. It really is a fabulous dish and I will be making it again!
OK let's be Hungarian.
Firstly we don't call the dumplings "spaetzle" but I can't spell the word that Grandma always used so I've borrowed the German term.
Start by heating the oil in a large pot and browning your chicken parts.
Remove the chicken and add the butter or margarine to the pot.
Sauté the onion in the melted butter until transparent.
Add paprika, chicken, and water, bring to a boil then reduce to simmer for 45 minutes.
Chicken should be very tender and about to fall off bones.
Remove chicken to bowl.
Add enough fresh water to pot to bring back to original level.
Check flavor of broth.
If flavor is weak add enough bullion to produce a well flavored broth.
Bring broth to boil.
Combine flour, salt, and pepper with eggs (the more eggs the richer the batter but two is OK) to form a thick batter.
Now comes the tricky (and boring) part.
Drop batter in boiling broth in 1/8 to 1/4 teaspoon amounts until all batter is in pot and cooked.
Spaetzle is cooked when it floats on surface.
You may need to remove some to get it all in the pot.
With all spaetzle cooked and in pot you now add your sour cream to broth. The amount is individual according to how creamy you wish the sauce to become (and how much water you started with).
At this point I usually add about three tablespoons of flour mixed with one cup of water to thicken the broth. Sorry I omitted this step in the original submission.
The sauce and spaetzle is the best part of this dish so be sure to make enough! They will be coming back for seconds on that part of the dish.
One of the most surprising things about this dish is it actually tastes better the second day. Sooo if you are making it for a special dinner prepare it the day before and simply reheat it one half hour before serving.