cyaos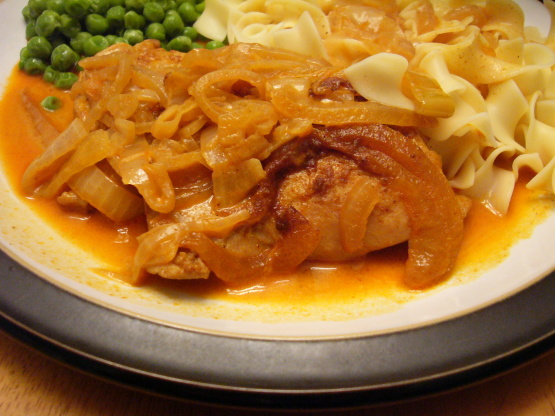 A Traditional Hungarian or German dish, depending on how you accompany it. Very Filling.

This is excellent. A new family favorite. Only changes I made was using all chicken breasts and I made a slurry with 1/4 cup of flour and added to sauce before adding sour cream. I served over wide egg noodles.
Melt Butter in a large pot or dutch oven.
Stir in Paprika to butter.
Sautee the onions in the paprika butter solution, then temporarily remove them.
It may be necessary to add an additional Tablespoon of butter to the solution.
Brown the chicken in the butter.
Add the chicken broth, re-add the onions and simmer for one hour, covered.
After the solution is fully cooked, add in the sour cream.
You may also add in the flour to thicken the gravy.
This dish is often served with the German pasta,'Spaetzels' or with the Hungarian'Halousky'.
This meal is exceptionally filling with the Spaetzels.