Pixie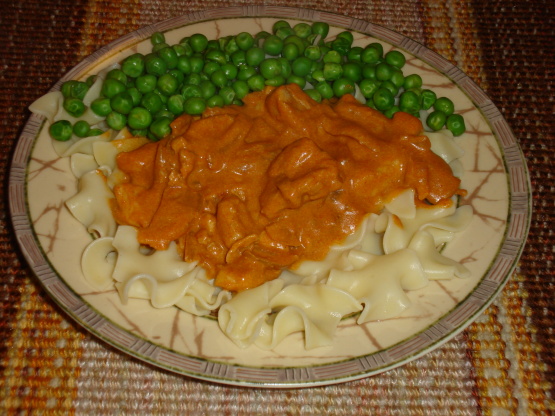 I adapted this from a recipe by Pierre Franey that originally appeared in the New York Times. You may use 1 cup water plus 2-3 chicken bouillon cubes instead of the broth.

i looked at several recipes for paprikash before selecting this one--it was nice to be able to do everything in nearly one pot. i would add mushrooms to this just to add a little something extra to it; otherwise it was delicious and i will add this to our menu!
Saute onion and garlic in oil.
Add chicken; brown on all sides. Add broth (or water and bouillon cubes) and 2 teaspoons or so paprika. Cover and simmer until chicken is tender (do not boil but simmer; this may take longer). You may want to remove the white meat first. Remove all chicken; keep chicken warm while preparing sauce.
Mix flour and sour cream, add a bit of sauce from chicken and mix together. Put this back into the pot – mix with sauce. Cook 1 minute without boiling. Taste for seasoning – add salt if necessary or more paprika. Return chicken pieces to the pot.
Serve with buttered noodles or rice.