BarbryT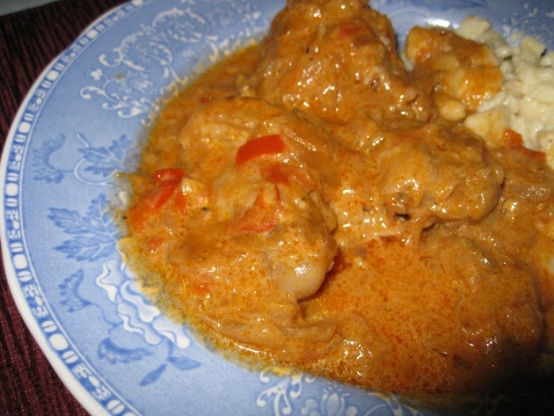 The gravy is very rich and perfect over Hungarian Dumplings.

This recipe is in The Frugal Gourmet On Our Immigrant Ancestors cookbook 1990 by Jeff Smith.Great book.
Heat a 6-quart heavy stove-top casserole and add the lard or oil and paprika. Sauté the paprika for about 1 minute and add the onions. Sauté for a few minutes and add the remaining ingredients, except the thickening, to the pot. Bring to a simmer and cool, covered, for about 45 minutes to one hour or until all is tender. Remove the chicken pieces and set aside.
Mix the sour cream and flour well, using a wire whisk. Add 1 cup of the gravy from the pot to the cream and stir while it thickens. Return the chicken to the pot and restore the heat.
Serve over Hungarian Dumplings.
NOTE: for a very delicious Veal Paprikas, use the above recipe substituting 2 1/2 lbs. of veal stew meat for the chicken.