Chicken Paprika (Paprikás Csirke)
Zurie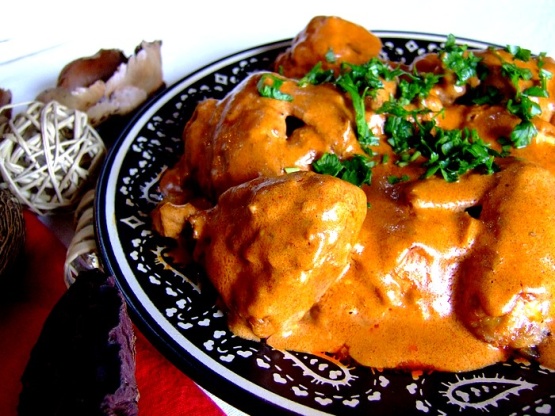 This is a simple old Hungarian dish. It's easy to make and requires no special cooking skills. I use smoked paprika, but ordinary paprika powder was what was used. For the sour cream, I also like using crème fraîche. But no matter: taste, and adjust things to your taste. The paprika is the mild, sweet type and the dish is inoffensive in all ways! A pleasant dish which suits all tastes! I DO recommend using bone-in, skin-on chicken, because the taste is simple better. Best made a day in advance because the flavour improves on standing, but also suitable for tonight's meal! 14.2.09: I've added in the metric measurement and simplified the steps. If you use the right size tablespoon and cup, the sauce should be a perfect consistency, thick and creamy.

This is absolutely wonderful - so delicious and very quick and easy to prepare. I have made this maybe a hundred times over the years, and my family never tires of it. If I could contribute just a few small tweaks: do use a large onion, and slice it so it remains in rings. If you sprinkle the chicken with some flour seasoned with black or white pepper before browning it will definitely enhance the flavour. So that the chicken doesn't stew and boil before it browns, you may want to use a large open frying pan, not crowding it too much. Add the garlic to the pan just before the chicken is finished so the garlic doesn't brown too much and get bitter. For convenience I like to throw in a whole can of purchased chicken broth and an equal quantity of sour cream because my family really loves the gravy. And you can very comfortably increase the amount of chicken to your own requirement without compromising the integrity of this fantastic dish. Whether you choose the regular paprika or the smoked Hungarian type, make sure it is fresh because it really does make a world of difference. If you plan to make this ahead of time, I have found that it's much better not to add the sour cream until the chicken is reheated first. This will maintain the smooth creaminess of the gravy, as will not boiling it after adding the sour cream. This is such a scrumptious dish, and the completed dish is a magnificent colour that is so appealing. I made this as a very novice cook for my first dinner party 30 years ago, serving it over noodles on my fanciest platter and what a winner it was then, and what a winner it remains today. Thank you very very much for sharing this wonderful recipe.
3

lbs chicken, cut into pieces, with bone and skin (1.5kg)
oil (for frying)

1

onion, medium, peeled and finely chopped

3

garlic cloves, peeled and finely chopped

3

tablespoons paprika, sweet not hot, fresh quality (45 ml)

1

cup chicken broth (250 ml) or 1 cup stock (250 ml)

2

tablespoons flour (30ml)

1

cup sour cream (250 ml) or 1 cup creme fraiche (250 ml)
salt & freshly ground black pepper
Trim the chicken pieces of excess fat and flaps of skin, cut it up, and offer it to your carnivorous garden birds.
Using a deep frying pan or suitable pot, heat a film of oil. Fry the chopped onion, garlic and chicken pieces until the chicken is half-cooked on all sides. No need to brown them.
A very large, deep pot will spare you the agony of those oil spatters and the extra effort of cooking in batches. Use a long-handled wooden spoon to turn the chicken a few time.
While chicken pieces fry, measure the broth or stock into a cup (a metric cup is slightly larger than a US cup). Stir the paprika into the stock.
Add the paprika stock to the chicken, turn heat low, put on lid, and cook for about 30 minutes, until chicken pieces are cooked through and tender.
During this time, scrape the sour cream into a mixing bowl. Add the flour. Whisk the flour into the cream with a wire whisk, until smooth. (Usually sour cream is quite thick).
Remove the chicken pieces to a deep serving dish, and pull the pot with paprika sauce off the heat.
Spoon the sour cream mixture into the paprika sauce in the pot, put back on the heat, and stir with wire whisk until it comes to the boil and thickens. It should be quite thick and smooth, as in the photographs.
Now you have to taste: unless your stock was very salty the sauce will need salt. Add to your taste. You could add pepper, but I skip that.
Pour the sauce over the chicken pieces.
Cover with foil and leave in a warming oven until dinner time (or serve -- whichever suits you). Or cool, cover and refrigerate until the next day.
Best served with rice.