Chicken Paprika (Csirke Paprikash)
ImPat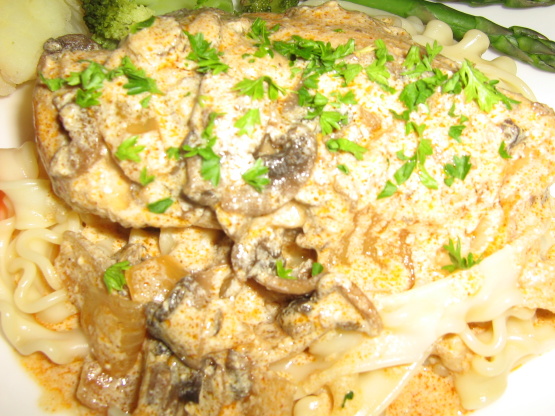 This is a great recipe! I recommend cutting up the chicken before mixing with the butter/basil tossed egg noodles. It makes it much easier to eat, and much more enjoyable, as the sauce gets to every inch of the noodles and chicken! The sauce is extra tasty, so make some good bread to sop up all the sauce! Add a wonderful salad and the meal is complete. This recipe is adapted from a recipe from the Masonic Grand Lodge of Fargo, North Dakota.

This was a really nice change for us and I love mild smoked paprika. The paprika really adds so much flavor to the mushrooms and the sour cream really tempers the flavors just enough. Made as directed with the exception of the parsley as I did not have any on hand. Used the egg noodles and served with a side salad. Made for PRMR tag, June, 2013.
Melt 1 tbsp margarine in a large skillet. Cook mushrooms over medium heat until medium tender. Drain moisture from skillet. Melt another 3 tbsp margarine in the skillet, adding sliced onions and garlic. Cook until onions are tender. Stir in the vinegar and paprika.
Meanwhile, mix flour and next 3 ingredients. Dredge the chicken breasts through the flour mixture. Place in the skillet with the vegetables, pushing them up against the side so the chicken will brown. Cook 3 to 4 minutes on each side, or until golden brown. Add water and chicken bouillon granules. Heat to a boil, then reduce to low and cover for 1 hour.
Prepare the egg noodles according to the directions. Add 2 tbsp margarine and parsley/cilantro to taste.
While the noodles are finishing up, remove the chicken from the heat. Add the sour cream. Add salt and pepper as needed.
I prefer to cut my chicken up into bite size pieces and mix with the noodles. Another option is to serve the chicken on top of the noodles, topped with the sauce. It is just easier for kids and the "knife-challenged" to eat it if it is already cut up!