Chicken Panini With Fig Jam
GaylaJ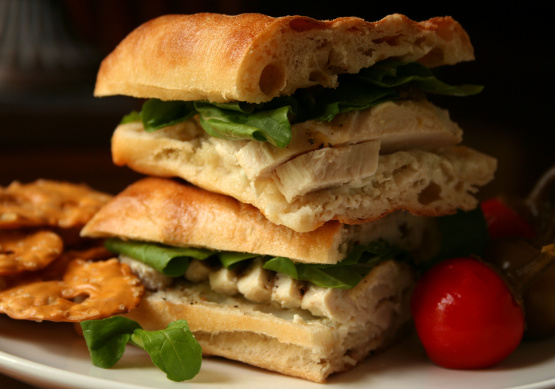 From Cooking Light magazine. I did not add the arugula or lemon juice to my sandwich.

Top Review by GaylaJ
What an excellent sandwich! The crispy grilled ciabatta, tangy blue cheese, sweet fig preserves, peppery (baby) arugula....mmmmm....perfect! I used ciabatta rolls, rather than a loaf, and did eyeball a few of the ingredients. I just use a Foreman grill to make panini, and it works quite well. Thanks for posting!
Spread jam over cut side of top half of bread.
Combine cheese and butter in a bowl, stirring until smooth.
Spread cheese mixture over cut side of bottom half of bread.
Arrange chicken evenly over cheese mixture; sprinkle with pepper.
Place top half of bread, jam side down, over chicken.
Heat a large nonstick skillet over medium heat, and add sandwich to pan.
Place a heavy cast-iron skillet on sandwich; cook 5 minutes or until both sides are browned, turning once.
(Or use a panini maker as you usually would. I don't have one. I have no idea how long it would take to make the sandwich that way.).
Place arugula in a bowl.
Drizzle lemon juice over arugula; toss gently.
Remove top bread half from sandwich. Arrange arugula mixture over chicken. Replace top bread half.
Cut sandwich into 4 equal portions.