ducky007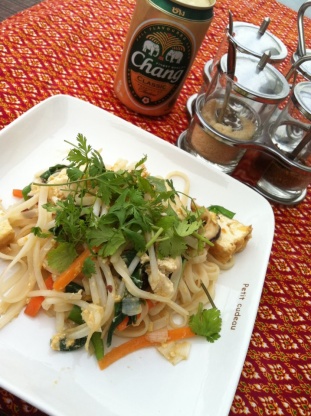 Pad Thai (Thai stir fried noodles) is one of Thailand's most popular dishes. If you don't have an appetite in hot steamy weather, this Pad Thai will make you hungry right away! Also this is a simple and quick recipe yet very tasty. You can substitute any veggies.
Soak rice noodles in boiled water about 10min to soften. Drain noodles and set aside.
In a wok, heat vegetable oil over a medium high heat.
When oil is hot, add garlic, ginger and green onion and fry for 2 minutes.
Add chicken and brown until cooked through.
Toss in vegetables and lightly stir fry, so vegetables remain crunchy.
Add tofu and then quickly add egg, fry, cut into pieces mix into noodles.
Stir in sauce.
Remove from heat, top with peanuts and coriander and serve right away with a quartered lime.