Leslie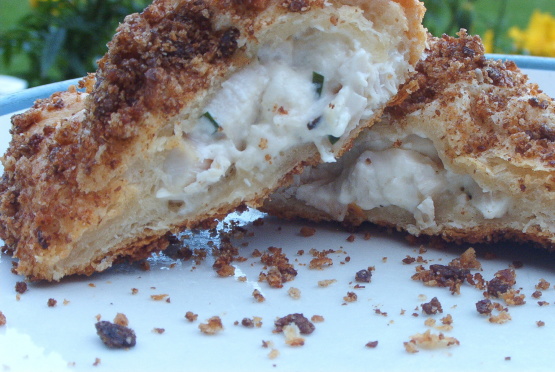 Another Once a month meal that's sure to please. My little girl likes these because they pick up easily in her hands! *I revised this recipe based on several folks pointing out that I had made a mistake on the amount of cream cheese. Thank you so much for the input!

I had to sub a lot of ingredients but the basics are the same. I tasted the mix as I went along and this is what I ended up with - 1/2 of a rotisserie chicken, 3 oz of neufchatel cheese, 1 small can of green chilies, a little less than 1 tbsp onion powder, and a sprinle of shredded sharp cheddar, 1/4 cup of broccoli chopped, and reduced fat crescent rolls. And I used cooking spray and seasoned bread crumbs instead of margarine and croutons. This was so fantastic. Next time I am going to try using crab meat and adding more veggies. I think this would also be good using all veggie and no meat. If you are making this for the first time I would go light on the cream cheese at first then add more to taste. And make sure you either season the chicken as you cook it or add some herbs to the mix. So so so very good. I love recipes like this that can be changed up a million ways.
2

cups chopped cooked chicken

1

(6 -8 ounce) package cream cheese, softened

1

tablespoon chives, chopped

2

tablespoons milk
1⁄2 cup seasoned croutons, crushed to crumbs

2

(8 ounce) packages refrigerated crescent dinner rolls
1⁄4 cup melted margarine
Mix chicken, cream cheese, chives, milk, and salt in a medium bowl (mixing with hands works best) to make filling, and store in a 1 qt freezer bag.
Put crouton crumbs in another 1 qt bag, attach it to bag of chicken filling, and freeze.
Refrigerate crescent rolls.
To prepare for serving, thaw chicken mixture.
Preheat oven to 350°F.
Unroll crescent rolls.
Each tube will contain 4 rectangles of dough with a diagonal perforation.
Press dough along each perforation so the rectangle halves will not separate.
Place about 1/4 cup of the chicken mixture into the center of each rectangle.
Fold dough over the filling, and pinch the edges to seal tightly.
Dip each packet in melted margarine, and coat with crouton crumbs.
Place packets on a baking sheet.
Bake for 20 minutes or until golden brown.
Packets are good either hot or cold.