Alskann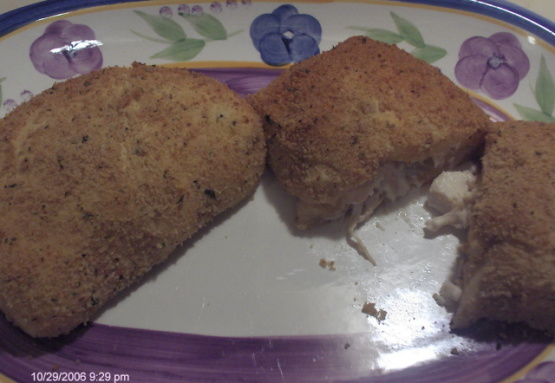 These yummy chicken packets are quick and easy to make and can be frozen ahead of time! I found this somewhere online, but can't remember where. Cooking time does not include time to cook the chicken beforehand.

We had this for dinner last night and it was well received. It was easy to make and very good. However, I think this recipe could be more. Next time I think I will add some celery and sliced mushrooms. Maybe even some onion. What you add to these is only limited by your imagination. I used seasoned italian breadcrumbs which made it a little salty. Next time I will use plain breadcrumbs. Overall a very simple, delicious meal with lots of possibilities.
2

cups chopped cooked chicken breasts

1

(3 ounce) package cream cheese, softened

1

tablespoon chopped chives (optional)

2

tablespoons milk
1⁄2 cup breadcrumbs

2

(8 ounce) packages refrigerated crescent dinner rolls
1⁄4 cup margarine, melted
Mix chicken, cream cheese, chives, and milk in a medium bowl to make filling.
*IF FREEZING* Store in a 1 quart freezer bag.
Put bread crumbs in another 1 quart bag & attach to bag of chicken and freeze.
To use now: unroll both packages of crescent rolls & seal diagonal perforation to make 8 rectangular pieces total.
Place about 1/4 C of chicken mixture into center of each rectangle.
Fold dough over the filling & pinch the edges to seal tightly.
Dip each packet in melted margarine & coat with crumbs.
Bake at 350 for 20 minutes or until golden brown.