Chicken or Salmon Foil Packs
PaulaG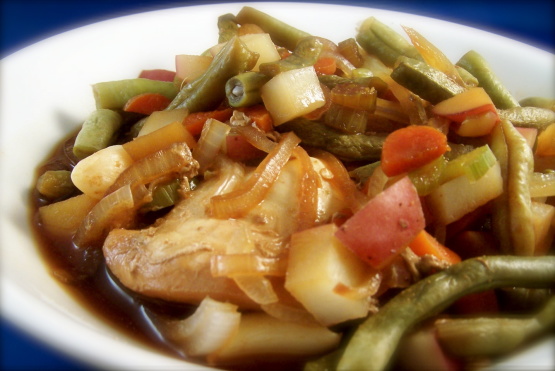 LOVE foil pack recipes...I use them when I go camping for a weekend trip. Really, any fish would probably work well, but I have never tried any other ones. The sauce for this foil pack is from Fiona Haynes' About.com Low Fat Blog. I added some veggies to make it a a complete meal.

Enjoyed by all here and that's high praise, believe me! I didn't do it exactly as written, because of time and preference. One packet only had carrots and chicken and the others had green pepper, onions, celery, carrots, and chicken. I made some jasmine rice and served the whole thing with terriyaki sauce for those who wanted it. This will be on the menu often! Thanks!
Preheat oven to 450 degrees if cooking in an oven.
For campers, prepare beforehand and pack in ice.
Combine soy sauce, ginger and garlic in a bowl.
Tear off 2 sheets of foil measuring 12 x 18 inches each. Place one chicken breast in the center of each sheet of foil wrap. Cut two small slits in each chicken breast.
Add vegetables. Drizzle the ginger-garlic-soy mixture over the chicken and vegetables.
Bring up the sides of the foil and turn over the top edge twice. Seal the ends, leaving enough room inside the packets for air to circulate.
Place on a cookie sheet and cook for 20 minutes or until the internal temperature of the chicken reaches a minimum of 165 degrees.
OR place on fire coals. Cook for 20 minutes, turning every 3-4 minutes.