Chicken or Pork Stuffed Capsicums/Bell Peppers
Peter J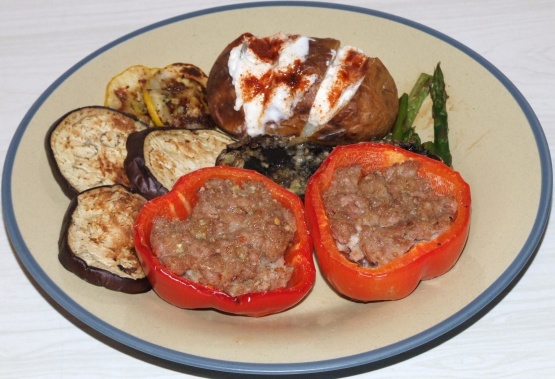 If you are following the WW points programme, this serves 4 at 3.5points each. I have included points in brackets beside each ingredient. The chicken or pork is fresh minced. I serve this with a baked vegetable medley, but as it has oriental flavours, stir fried vegetables could also be used.

Great idea Jogreen, I just cooked this using pork and capsicum and results were great! Also made a little extra mixture that I've vacuum sealed to use as a side dish over the next week. The only change I made to the recipe was to use four fresh cloves of garlic. I cooked on the rack of a BBQ and wrapped a little foil around the bottom of the capsicums to stop too much direct heat, and cooked along with a variety of other vegetables. An added bonus to the foil was while I cooked a few vegetables that don't take much time it could be left on the grill with the cover open to keep warm.
4

large red peppers (or a mixture, 0) or 4 large green peppers (or a mixture, 0) or 4 large yellow peppers (or a mixture, 0)

300

g chicken (10) or 300 g pork mince (10)
1⁄2 teaspoon crushed ginger
1⁄2 teaspoon crushed garlic

1

tablespoon sweet chili sauce

1

cup breadcrumbs (4)
chinese five-spice seasoning
Pre heat oven to 180'C/350'F.
Slice the capsicums in half lengthwise and scoop out the seeds.
Mix together all the other ingredients.
Stuff mixture into the capsicum halves.
Bake on an oven tray lined with baking paper, until cooked thoroughly (about 20-30mins depending on your oven).