Jubes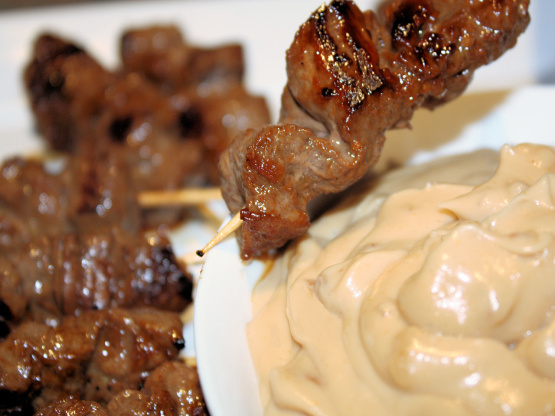 You can make this with chicken or beef. I got this from "1000 Classic Recipes for Every Cook".

Wonderful satay recipe - it sent DH straight into satay heaven :D He said it tasted just like the satay we used to have when we spent our vacations at Nordwijk aan Zee in the Netherlands. This definitely will be a keeper for evoking vacation-feeling. Thanks for sharing!
Made for Celebrating National Diabetes Month Tag Game in the diabetes forum.
Using a sharp knife, trim any fat from chicken, then cut into 3" strips.
For marinade, place onion, garlic, ginger, soy, shili powder, coriander, brown sugar lemon juice and vegetable oil in a zip top bag and mix well. Add chicken strips and mix in marinade until well coated. Put in refrigerator for 2 hours and up to overnight.
Remove meat from marinade and thread the strips accordion style onto pre-soaked wooden skewers.
Broil the skewers for 8-10 minutes, turning and brushing occasionally with the marinade until cooked through.
Meanwhile, make sauce.
Mix coconut milk with peanut butter, fish sauce, and lemon juice in saucepan. Bring to a boil and cook for 3 minutes.
Season to taste with salt and pepper.
Transfer sauce to serving bowl and serve with cooked satays.