MaryMc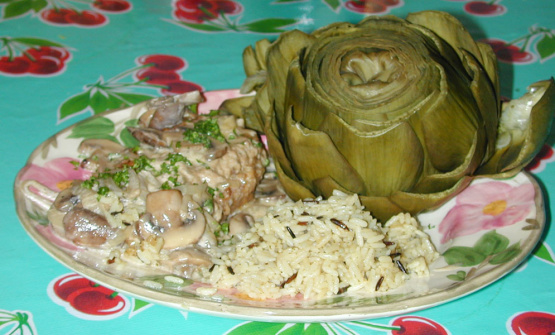 This is one of my favourite recipes. Its a Portuguese recipe, made of boneless chicken breasts. It's braised in a white Portuguese Port Wine, with mushrooms and cream. You can serve it over noddles, rice, or with french.fries, and a nice tossed green salad, have a good bottle of wine ready to goble this down with. I do hope you will enjoy it as much as I do
Bom Dia Mia #3: Loved a recipe calling for white Port (very seldom find one). Flavor is wonderful but after removing the chicken from the sauce I boil the sauce down a little to thicken. This also gives it a deeper flavor. Thanks again for a great recipe and so easy.
In a hot frying pan heat half of the butter (medium-high heat).
Add in the mushrooms and onion cook for about 5 minutes along with the garlic.
Remove and set aside in a bowl or deep dish.
In a bowl combine the flour salt and pepper to coat chicken breasts on both sides.
In the same frying pan add in the remaining butter and cook the chicken breasts over medium-high heat, careful not to burn, cook till browned on all sides.
Now stir in the cream and the Port Wine, and the mushrooms, bring to a boil, and then reduce heat to low, cover and simmer for 15 minutes or till cooked.
Pour into a platter and sprinkle chopped parsley over top.