Sageca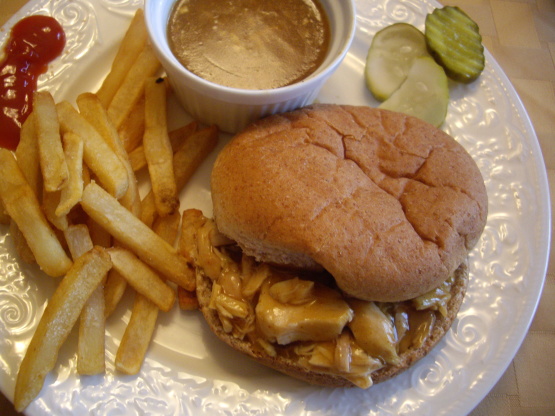 This recipe is the easiest you can find. It is a cheater's version of what they serve at St Hubert's restaurant.Try to find the St Hubert BBQ sauce(gravy),but I'm sure your favourite will work. Serve with fries. This is fast food at home. Even the greatest chefs cheat sometimes. Enjoy! Great chicken you can prepare yourself for this recipe. .Slow Cooker Rotisserie Style Memphis Chicken
Open cans and pour sauce in slow cooker or skillet.
Remove skin and bones from your chicken.
Cut in slices and chunks bite size pieces.
Place in sauce.
Simmer for 2 hours so that flavours can mingle.
Grill your buns.
Serve chicken on buns.
Serve a container of sauce on the side to dip your chicken on a bun and your fries.