Prep 10 mins
Cook 10 mins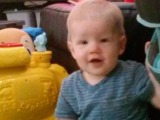 My 6 grand kids love it when I make these Chicken Nuggets for them. There is never any leftover for another meal.
Directions
Preheat oven to 475 °F.
Line a rimmed baking sheet with aluminum foil and set aside.
Place the panko bread crumbs, 1 tablespoon all-purpose seasoning and 1 tablespoon paprika in a jumbo-sized food storage bag and set aside.
Season the chicken breast pieces with 1 tablespoon all-purpose seasoning, 1 tablespoon paprika, and ground black pepper, making sure to coat each piece well.
Dredge the chicken pieces lightly in the flour and shake off any excess.
Dip the floured pieces in egg white, and then add them to the bag of seasoned bread crumbs.
Seal the bag and shake vigorously to make sure that the nuggets remain separated.
Place the nuggets on the foil-lined baking sheet.
Spray them generously with cooking spray.
Turn them over and spray them again.
Bake the nuggets for 5 minutes, turn them over, spray them again, and bake for five more minutes.
Remove from oven and sprinkle with salt.
Serve and enjoy.
Most Helpful
This was a hit at our house! I made a few modifications w/seasoning but overall it was tasty. Sure beats those frozen things you buy at the grocery store. Have made this 2x in the last week (per request of the teenagers in the house)
The kids really liked these. I froze them and they reheated nicely both in the oven and in the microwave. They did not become chewy at all.
This was super-fantastic.m had to make another batch for the kids for the next day. My kids like chicken nuggets, but they loved these . VERY delicious.