Chicken Noodle Tetrazzini - a Little Healthier
Nimz1466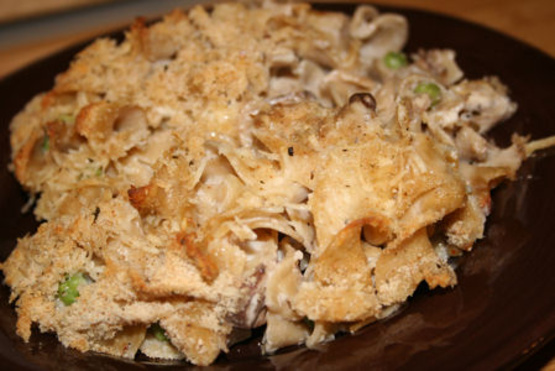 Keep all the traditional goodness of chicken tetrazzini yet whittle out some of the fat and calories. A great kid-friendly, weeknight meal to use up leftover chicken or a rotisserie chicken from the deli. If you're not watching fat intake, feel free to use full-fat ingredients.

WOW! An absolute GREAT way to use up leftover chicken!! This is so very good!! I used leftover grilled chicken as I made wayyy too much for one meal. Although, like another reviewer, I found it a little too dry for my taste. Since I didn't have ALL the ingredients on hand, I substituted low-fat sour cream for the yogurt; broccolli instead of peas; and water instead of chicken broth. I also omitted the mushrooms and added a 15 oz can of diced tomatoes (drained them). It came out absolutely SCRUMPTIOUS. However, next time, I am not going to drain the diced tomatoes, for added flavor and moisture. I will most definately make this again and again!!
Cook egg noodles according to package directions. Drain, cover and set aside.
Preheat oven to 425°.
Melt margarine in medium saucepan; blend in flour until smooth. Cook for 1 minute but don't let it brown.
Slowly whisk in milk, chicken broth, thyme and black pepper.
Cook sauce over medium heat, stirring constantly until mixture thickens and comes to a boil (about 10 minutes).
Stir in peas, yogurt and two tablespoons of parmesan cheese.
Mix together noodles, mushrooms, sauce and chicken. Taste for seasonings; add salt and more pepper if desired.
Turn mixture into lightly greased 9"x13" baking dish.
Sprinkle with remaining parmesan cheese and bread crumbs.
Bake 15 minutes or until heated through and golden brown on top.