Annacia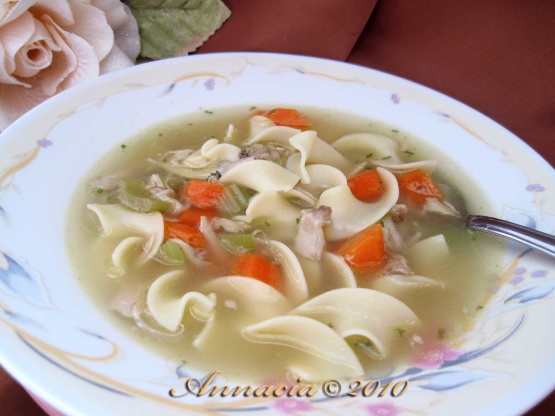 Moms recipe- a wonderful clear broth with generous servings of chicken and egg noodles.

Excellent old fashioned chicken soup. It's a recipe that brings back memories of the way soup use to be made, the best soups, at home. Set aside some time to make this for your family on a cool day. The aroma will welcome everyone and the flavor won't disapoint either. I didn't have the fresh parsley but the rest was made as ask. Made for PAC, Spring '10.
In a large dutch oven add chicken with enough water to just cover-( about 10-11 cups.).
Add to chicken-salt,pepper, butter, 1 1/2 carrots whole, stalk of celery, and onion halved.
Bring to a boil then turn heat to low. Simmer 1 1/2 hours.
Remove chicken, cool . Debone chicken into large pieces-about 2 inches long. Reserve chicken on the side.
Remove carrots,onion and celery-throw away.
Strain chicken broth into clean dutch oven.
Add chicken boullion cubes.
Shred remaining 1/2 carrot into broth.
Bring broth up to a boil. Add noodles, return to a boil and cook noodles 7 minutes.
Add parsley and chicken, heat through.
Add additional salt and pepper to taste.