Pam-I-Am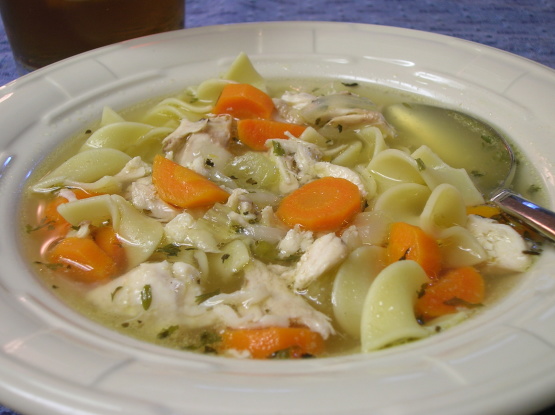 This recipe came from a Southern Living cookbook. It was so perfect the way the cookbook said to make it, that I kept it just that way.

Made this for my family of 6- will need to double the batch next time! Used 2 bone-in skin on chicken breasts and cut up meat from 1 for the soup (plenty!) and chopped up and froze the second one for a pot pie later in the week. I also added chopped celery with the carrots and onion. Y-U-M-M-Y!
Combine first 9 ingredients in a large Dutch oven. Bring to aboil, cover, reduce heat and simmer 1/2 hours or until tender. remove chicken from broth, discard bay leaf. remove skin, bone chicken, and dice meat; set aside.
Add carrot and onion to broth; cover and simmer 30 minutes. Add chicken and noodles, cook an additional 15 minutes.