KGCOOK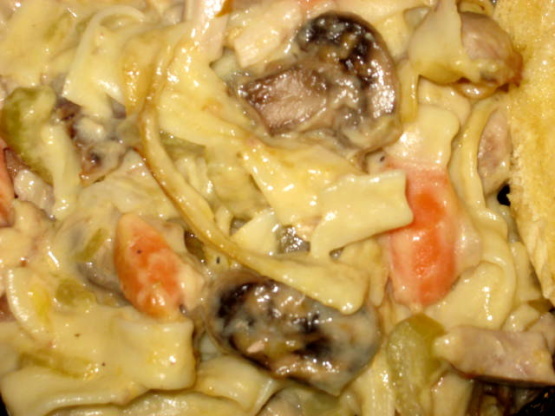 This recipe uses no crust. You could if you want to though. It's a comfort food that will warm you innards up! You can add most anything to it. The mushrooms you can use fresh or canned. I like the fresh. Seasonings are to taste. Try more or different seasonings too! Try a different cheese. Try adding some left over ham or crumbled bacon to the dish too. Note: 15 minutes of the cook time is included in the cooking time.
Cook noodles in boiling water until done and drain.
In large skillet, saute carrots, celery, and onions till tender.
Stir in soups, milk, and cheese.
Cook, stirring constantly until cheese is melted.
In a large bowl, mix noodles. cheese sauce mixture, mushrooms, chicken, sauted vegetables, and seasonings (to taste).
Pour into a sprayed 3 quart (or 13 X 9) baking pan and even out.
Sprinkle with bread crumbs over the top.
Bake in preheated oven for 30 minutes or until hot.
Serve with hot rolls.