Chicken Noodle and Creamy Corn Soup
JustJanS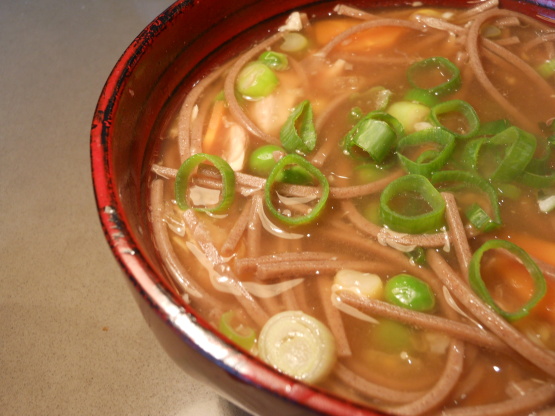 So easy for that cold winter's night. So very easy to make. I have also used left over chicken for this recipe. Fresh noodle's could also be used instead of dried, but you must cut them for using.

My udon noodles were actually sba when I got them out of the pantry but that's OK and I was in a hurry and broke up the whole packet and added them in but that was OK too. I used leftover chicken and home made stock and we thought this soup was excellent thanks Tis !
Saute chicken in a small non-stick pan. When chicken is browned, add soy sauce to pan with chicken and simmer for 1 minute. Remove from heat and set aside.
In a separate pan, add the carrot and celery to the stock plus 1 cup of water. add broken noodles and add.
When the noodles are almost cooked add peas and spring onion.
When noodles and vegetables are cooked, add the creamed corn plus the chicken with the soy sauce.
Stir and serve immediately.