Sara 76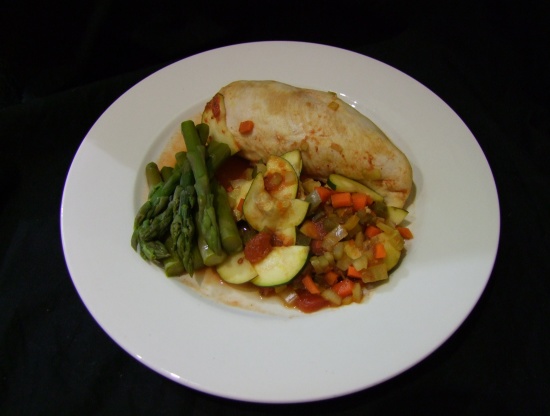 Chicken recipe from Nicaragua.

tossing up whether this is a 4 or 5 star. Decided that because the ingredients are all in the fridge, , it gets a 5. Tastes very good! not WOW but a healthy tasty meal. made for Aussie swap Jan 2013
Brown chicken on both sides in a nonstick skillet, then transfer to a casserole or Dutch oven.
Add green pepper, celery, onion, carrots and garlic to the skillet in which the chicken cooked.
Cook briefly, stirring until vegetables are cooked but crisp.
Spoon vegetables over the chicken and add the tomato juice, squash, cumin, salt and pepper.
Cover the casserole and bake 50 minutes or until the chicken is tender when pierced with a fork.
Add the peas, and return casserole to oven, covered, for 10 more minutes.