Chicken 'n Fruit Pinwheels
MISSIB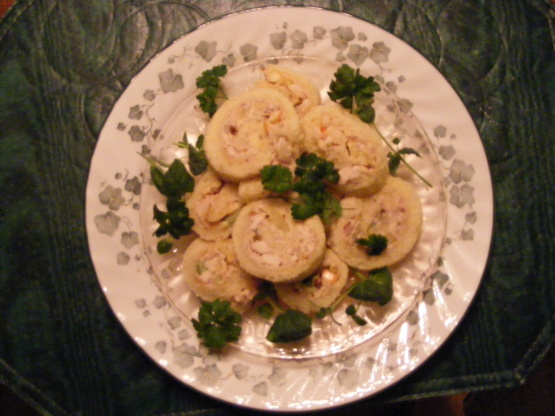 ----This was an entry in RSC #10.

I finally got this recipe made and boy am I glad that I did!!! My family loved this recipe. I will admit that I cheated and used flour tortilla wraps instead of the bread called for in the recipe. We ate these as appetizers and when we finished, we really didn't care about eating the meal. This recipe pretty much is a meal in itself. I did take pictures, and hope to get one posted soon. Thanks for the great recipe.
Mix the first list of ingredients in a medium size bowl.
I drained the pineapple and pressed as much juice from it as I could. Saved the juice to use some in dressing.
Then make the dressing and add to the chicken and fruit mixture.
I had the bakery dept slice a loaf of bread horizontally, then I cut the ends off.
Spread the chicken mixture on each slice and then roll.
I used an electric knife to slice the pinwheels.
Amount of pinwheels will vary according to the type of bread you use and thickness of slices. I got 5 1/4-inch pinwheels out of one slice of bread using 1/3 cup of mixture.