Chicken & Mushrooms (Greek Style)
mliss29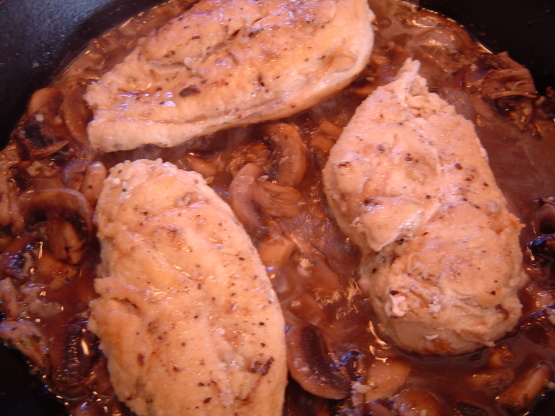 I saw this on Epicurious, on tv. I thought it sounded good. I have not made it yet. I wanted to post it here so that I would not loose the recipe.

This was an easy dish...I wish I had bn more generous when applying the salt and pepper to chicken as mine was almost a bit too bland. I will make again with a few tweeks one of which will be to add cornstarch to the recipe to make more of a sauce (thicker texture) as mine was a bit fluid...you know watery. Thanks for the builder recipe as I feel with a few adjustments/additions this will make for a fine meal
Heat olive oil in heavy large skillet over medium-high heat.
Sprinkle chicken with salt and pepper; dust with flour. Add chicken to skillet; sauté until brown, about 2 minutes per side. Using tongs, transfer chicken to plate.
Add mushrooms, garlic and oregano to same skillet. Sauté until mushrooms brown, about 10 minutes.
Add broth, lemon juice and wine and boil until sauce is slightly reduced, about 5 minutes.
Add chicken to sauce. Reduce heat and simmer uncovered until chicken is cooked through, about 2 minutes per side. Season with salt and pepper.
Transfer chicken and mushroom sauce to platter. Sprinkle with parsley.