Chicken Mushroom Quesadilla
loof751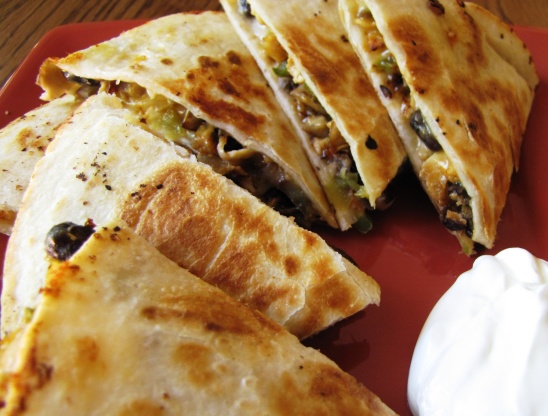 This is always requested when all "the boys" come over for a game. You can make the filling ahead of time and just warm up before putting it in the tortillas. I serve this with sour cream, salsa and Zaar posted "Wholly Guacomole". Hope you enjoy!
I made these according to recipe AND also a batch using leftover pulled pork. Here in San Antonio, TX, refried pinto beans are quite popular too, which is what I used in my quesadillas. Homemade guacamole or just plain, mashed up avocados are a big favorite too, as a topper.
Add a tad of butter to a fry pan and add onions and mushrooms.
When all the water that was released from the mushrooms has evaporated, add the cooked chicken, salsa, green chiles and drained and rinsed beans. In case you are wondering, why rinse the beans? There is so much flavor packed into those little guys from soaking in the soup broth and you don't want a soggy tortilla. Anyhow, simmer for about 5 minutes.
Lightly butter one side of the tortilla and place in frypan (medium-low), add just enough cheese for the filling to stick to. Add the warm filling and top with more cheese. Top with another tortilla that has been lightly buttered on the side facing up. When cheese has melted on the bottom, carefully flip.
Remove to plate when the other side has melted. I use a pizza roller to cut into 4 wedges.