Chicken, Mushroom and Bacon Pot Pie
K9 Owned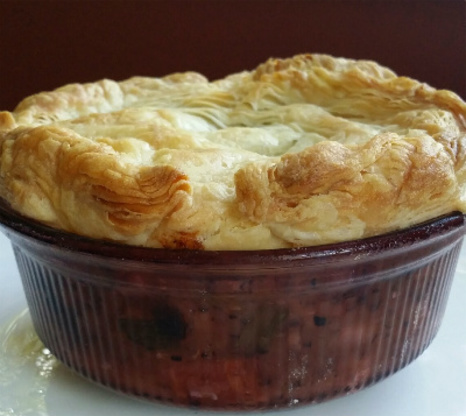 A great comfort food dish.

My husband is a huge fan of Pot Pies and this one won me Goddess points. :) I multiplied the recipe by 2.5 as I suspected that I would want to freeze the remainder for either another Pot Pie or as a filling for crepes. Easy to put together and super tasty! Thanks for posting. Made for CQ4
Preheat oven to 425 degrees F. In a heavy-based frying pan, fry the bacon in the oil until beginning to crisp. Then add the sliced mushrooms and soften them in the pan with the bacon.
Turn the chicken strips in the flour and thyme and then melt the butter in the bacon and mushroom pan. Add the chicken and all the flour left in the bag. Stir around with the bacon and mushrooms until the chicken begins to color.
Pour in the hot chicken stock and Marsala, stirring to form a sauce and let this bubble away for about 5 minutes.
Take two deep oven-proof bowls and make a pastry rim for each one by placing a strip curled around the top of each bowl. Dampen the edges with a little water to make the pastry stick. Cut a circle bigger than the top of each pie for the lid, and then divide the chicken filling between the two bowls. Dampen the rim of the pastry again and then pop on the lid for each bowl, sealing the edges with your fingers or the underneath of the prongs of a fork. Cook the pot pies for about 20 minutes turning them around halfway through cooking. Once cooked, they should have puffed up magnificently.