Chicken, Mushroom And Artichoke Casserole
Janni402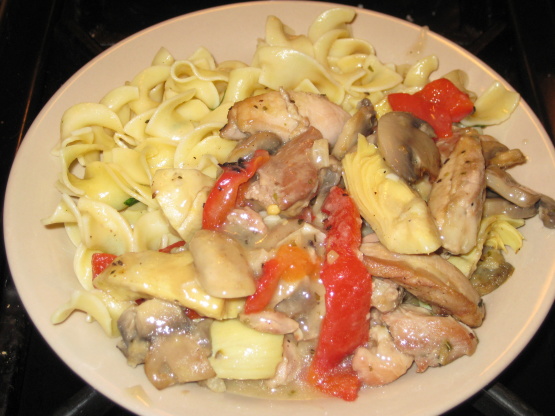 A great make ahead dish. Wonderful served over rice.

I complete deconstructed this recipe. I saute the chicken separately and I like NurseJaney's idea to use rotisserie chicken. Then in a deep saute or stock pot I follow along with preparing the mushrooms, garlic, butter, adding the flour, then broth, but then I add the drained artichokes to this and add more thickener as necessary until I have almost a gravy consistency to ladel over the chicken or a little less thick to have with rice. I think this began when I didn't want to heat the oven. In all, it is great flavors and thank you for the recipe.
Preheat oven to 350°.
Melt butter in skillet and brown chicken on all sides.
Place chicken in casserole.
Add garlic and mushrooms to same skillet and saute for about 5 minutes.
Add flour and stir.
Add chicken broth and cook over medium heat until slightly thickened.
Top chicken with drained artichoke hearts and pour mushroom mixture over.
Bake for approximately 30 minutes or until hot and bubbly.