Chicken Mulligatawny Soup from "the Frugal Gourmet"
SuzTheQ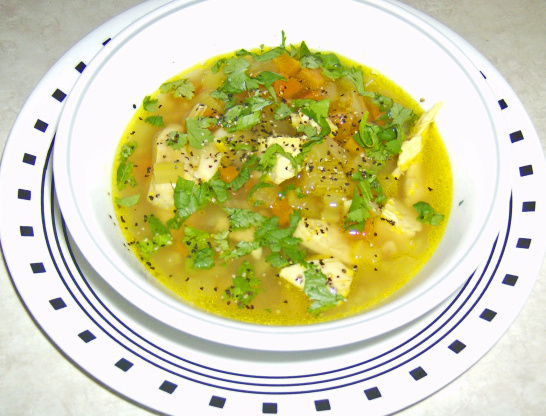 The best chicken soup I've ever eaten. This came from "The Frugal Gourmet On Our Immigrant Ancestors" by way of a friend of mine. It's easy to make, although you need to make sure you have all of the spices, and at least for me, they aren't the most common of spices. Having said that, you won't have any problem finding them in the local Safeway.

I love the combination of spices in this recipe. The turmeric gives the broth a very nice light yellow color, which is very eye appealing. This recipe is the basics for my favorite way to prepare chicken soup. I used cooked chicken in place of the chicken thighs and instead of pepper flakes, I added a can of Ro*Tel tomatoes to give the soup a nice kick. I also added a large cubed potato (steamed in micro wave to soften) and a cup of frozen green peas. Thanks, VideoJeff for this very nice recipe!
In a 4-quart pot, simmer the chicken, covered, in 4 cups of water until tender, about 30 minutes.
Remove, cool, debone, and chop the meat and skin coarsely.
Save the stock in the pot.
Set the meat aside.
Heat a large frying pan and add the ghee, garlic, onion, celery, and carrot.
Saute just until the onion is tender.
Add this to the pot of reserved stock.
Add 4 more cups of water to the pot along with all remaining ingredients except the garnishes and chicken.
Cover and simmer for 30 minutes.
Add the deboned chicken.
Simmer for 5 minutes.
Garnish with the fresh coriander and black pepper.
I like lots of black pepper in this dish!