lazyme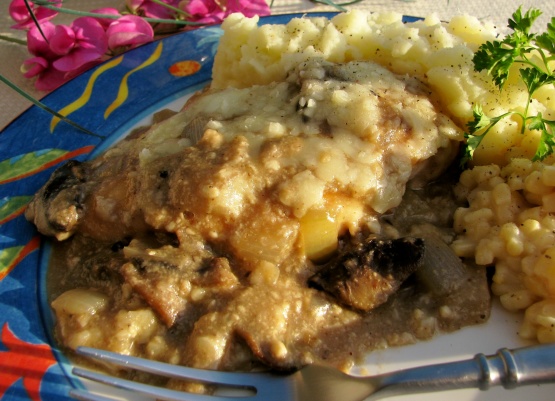 This recipe is very different from others I have seen. I do not find a keeper too often. Very elegant to look at, very good to taste, but is rich. I have made a couple of minor changes. This great recipe has been in my back stash. since 10-03. It was sumitted to allrecipes, by Doreen.

I made this once as written. After a search for a real good recipes to do. And with resulted in other similar recipes, I decided I wanted to create something unique a great base recipe and easy to modify depending on your tastes.. It may be a stretch to call my creation, but the result was a meal the whole family will liked. MY was Not better, not worse, just different! I've will added this to my recipe book "AS IS" and with my additions TOO. I have two way to do it!! THANK YOU!! I can do the happy food dance!! NOW !! 7 Stars
Preheat oven to 300 degrees. Lightly grease a medium baking dish.
Melt 1/4 cup butter in medium skillet over medium heat. Stir in onion, mushrooms and garlic. Cook until tender, about 10 minutes.
Stir in 2 tablespoons flour; sauté a few minutes more. Stir in stock, celery salt, white pepper and white wine.
Reduce heat to low, and cook, stirring frequently, until thickened and well blended, about 10 minutes.
Mix 1/2 cup Monterey Jack cheese into the thickened sauce mixture and stir until melted; set aside.
In a shallow bowl mix flour, salt & pepper.
Dredge chicken in flour mixture to coat.
(Make sure chicken is dry--I put between paper towels).
Melt 1/4 cup butter in a large skillet (cast iron is good). Have butter very hot--you just want to slightly brown (DO NOT OVER COOK).
Arrange chicken in baking dish and cover with sauce.
Top chicken and sauce with remaining 1 cup cheese.
Bake in preheated oven 25 minutes, or until chicken is no longer pink.
I put the pepper flakes in the broth.
Hope you enjoy as much as we did.