IngridH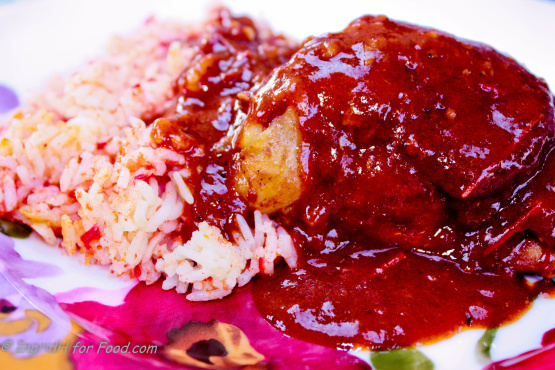 A traditional, favorite recipe. Uses a cut-up chicken, skin on. To save fat, you could use skinless, but highly recommend using bone in for flavor. It is the most authentic to use skin on and bone in.

This was just wonderful! I did make a few minor changes. First, I used yellow pepper instead of green. Second, I skimmed off about 3/4 of the drippings before adding the vegetables in step 2. Next, I pureed the sauce at the end of step 2, before adding the chicken. I don't like chunky sauces, and for me; mole is a smooth sauce, so I pureed it before adding the chicken back in step 3. With those changes, this was outstanding. It was just what I had expected of a mole sauce after enjoying it in Mexican restaurants- very rich, and slightly smokey. Just loved it, and will make it again!
In a large skillet brown the chicken pieces in hot butter for 15 minutes. (Medium heat, unless your stove runs hot, then medium low) Season the chicken with a little salt and pepper. Remove from the skillet, setting the chicken pieces aside.
In the same skillet, cook the onion, green pepper, and garlic in the pan drippings till the vegetables are tender (medium to medium low heat). Do not burn the garlic. Add undrained tomatoes, beef broth, sugar, chocolate, chili powder, salt, cinnamon, nutmeg, cloves, and hot pepper sauce. Stir to combine the ingredients and to melt the chocolate.
Add the chicken; cover and reduce the heat. Cook about 45 minutes or until the chicken is tender.
Transfer the chicken to a heated serving platter. Keep warm.
Combine the cold water and the cornstarch. Stir into the sauce. Cook and stir till thickened and bubbly. Cook and stir 2 minutes more. Pour the sauce over the chicken.