lazyme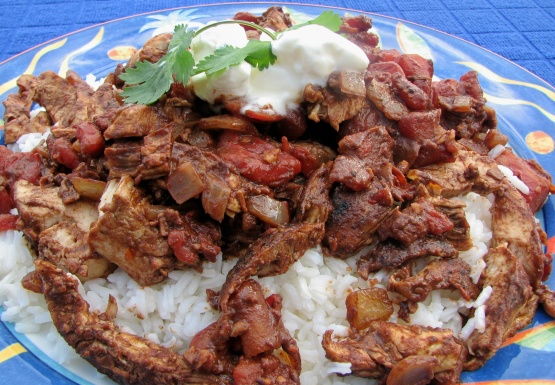 I don't remember where I got this recipe but I thought it was good enough to handwrite on one of my recipe cards. I do remember that the feta was really great with it and seemed to bring out the flavors.

Made for Comfort Cafe Game. This was pretty good considering I've never had anything mole before I didn't cut the chicken as mine wasn't getting done and it was getting too brown. So I took the chicken out of the pan, made the tomato sauce portion and put the chicken back in. Then I removed the chicken again and stirred in the cocoa. I think that next time I make it, I'll cut the chicken in strips first like one of the other reviewers did. Thanks for posting this Engrossed!
Spray chicken with oil and coat with chili powder, salt and pepper.
Pan fry chicken over medium-high heat until done.
Cut chicken into strips and set aside.
Heat oil in skillet. Add onion, garlic, cinnamon and cumin and cook until onion is soft.
Add tomatoes, simmer uncovered 10 minutes.
Add cocoa, simmer uncovered 5 minutes.
Add chicken, simmer uncovered 5 minutes or until heated through.
Serve over rice with garnishes.