awalde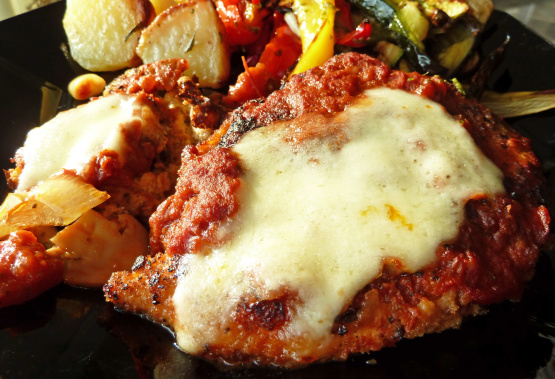 I came up with this by playing with my method for chicken parmigiana. The idea came from a restaurant veal dish that had green peppers. I've taken it a few steps further. This is also a delicious recipe for veal.
Pound chicken breasts flat.
Whisk milk and egg together in large bowl.
Mix crumbs, parmisan and spices together on a plate.
Heat olive oil in large frying pan.
Dip chicken in milk mixture, then coat with bread mixture.
Fry chicken pieces until toasty golden coloured.
Coat a baking sheet with cooking spray.
Spread a cup of sauce on baking sheet.
Spread mushrooms, peppers and onions on sauce.
Place chicken pieces on top and cover with more sauce.
Bake at 350 F for 20 minutes.
Remove from oven and cover chicken pieces with mozzarella.
Return to oven for 10 minutes to melt the cheese.
Serve with pasta.