Chicken Methi ( Chicken With Dried Fenugreek Leaves)
Changy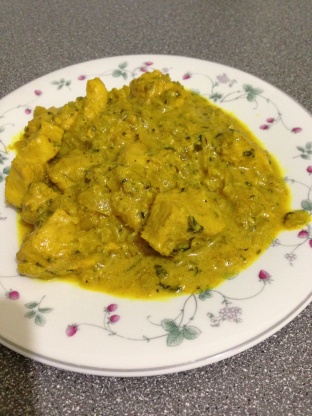 From the Indian chef Sanjeev Kapoor. Super easy and Super Tasty. A staple at our home Kasoori Methi is availablein Indian Grocery Stores
Clean, skin, wash and cut chicken into medium sized pieces.
Peel, wash and chop onions. Peel and chop ginger. Remove stem, wash and chop green chillies.
Heat oil in a pan. Add whole garam masala and bay leaves. Sauté until cardamoms starts to crackle.
Add chopped onions and cook until translucent and soft. Make sure to stir continuously. Add chopped ginger, garlic paste, turmeric powder, coriander powder and chopped green chillies. Sauté for a minute.
Add chicken pieces and beaten yogurt and cook on a high heat for 7-8 minutes. Add kasoori methi, garam masala powder, chopped fresh coriander, salt and three fourths cup of water. Cover the pan and cook on a low heat for ten minutes.
Serve hot.