3 Reviews
I love this recipe. I tweaked it a bit to beef it up. Once cooked, my 8 oz of rice noodles gave me a lot more than I expected. I doubled the veggies, tripled the sauce, and added some crushed red pepper.
I soak mine in broth and that helps boost the flavor quite a bit. I also cook my veggies and meat down first and use the added moisture from that to add flavor.
I was hoping to have something close to what the Chinese restaurant down the road does in the way of Shrimp Mei Fun. This turned out OK, but almost completely tasteless. I can't cook and then drown it in soy sauce for flavor. I don't really like soy sauce anyway. What can I do to make it tastier?! Maybe cook the noodles in chicken bullion? Any suggestions?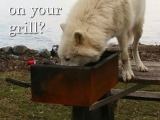 Chicken Mei Fun